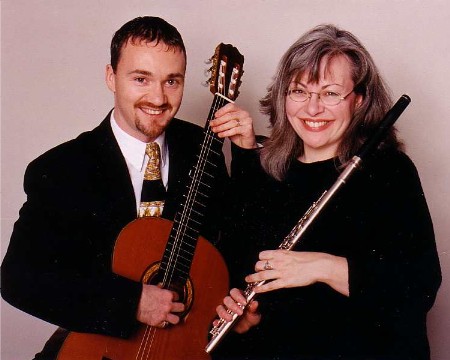 Based in Ottawa, Ontario, Canada, Duo Capriccio features musicians Beverley Robinson on flute and Dave Milliken on classical guitar. The duo was formed in 1989 when both were music students at the University of Ottawa.
Dave and Beverley have developed an extensive repertoire of renaissance, baroque, classical, romantic, folk and latin music.
These versatile, experienced musicians are constantly in demand for weddings, parties, corporate events and other special occasions.
Contact Dave to arrange a booking by clicking here.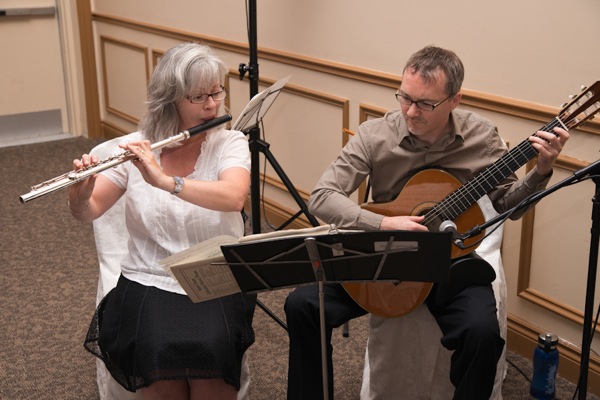 Testimonials
We couldn't be happier that we chose Duo Capriccio to play at our ceremony! The music was beautiful and just what we needed to make our ceremony so special!
- Robin & Donnie Robitaille, June 23, 2012
We wanted to thank you for playing at our wedding reception at the Chateau. Your musical talents are exquisite and we immensely enjoyed the musical arrangements. We hope you had an opportunity to enjoy yourself and we will definitely be using your services in the future. Thank you.
- Tina Guenther & Bola Sogbein, June 5, 2010
I want to express my gratitude to Duo Capriccio for providing such beautiful music for my daughter's wedding. The priest and many guests commented on the lovely performance. Your extensive repertoire made selecting music for the ceremony a joy. The high calibre of musicianship created an especially elegant and moving performance. We would recommend you highly to anyone planning such an event. Thank you so much!!
- Mary-Ann Symes, July 25, 2008
On October 2, 2005, Duo Capriccio performed on the Wakefield Covered Bridge for the intimate and elegant wedding ceremony of Kelly Bradshaw and Bruno Solesme.  The couple was blessed with a clear and unseasonably warm day. One of the most beautiful parts of the ceremony was the extended processional from the opposite side of the bridge, to which Dave played the lovely Prelude from Bach's Suite No. 1 for Cello, adapted for solo guitar.  
Duo Capriccio's lovely flute and guitar lent an ethereal quality to the ceremony, and we accepted compliments from all who attended. Their music was a perfect wedding gift to give to the bride and groom.
- Lois Luke and Denis Loignon
Duo Capriccio performed for the wedding ceremony of Chantal Zeitoun and Colin Ferguson at the Baldachin Inn in Merrickville. The lovely ceremony took place outside in the courtyard, and the weather was perfect. The music included a special request of the bride, the Air in G by J. S. Bach, for the processional of the bridesmaids.
I would like to thank you for a fantastic performance! The music was beautiful! Thanks for being a part of our special day. Please let me know if you ever need a reference.
- Chantal Zeitoun
On August 19, 2005, Duo Capriccio performed at Orchard View for the wedding ceremony of Rosemary Quirouette and Steve Morse. The wedding was in a lovely setting outdoors under the gazebo. The music included a pretty Celtic tune, Si Bheag Si Mhor, for the bridesmaids' processional, and Dave singing Ice Cream by Sarah McLachlan for the signing of the registry.
I wanted to tell you that we were absolutely thrilled with your playing. We had several comments from the guests about how wonderful the ceremony music was and everyone was very impressed. Thanks again for everything!  Please feel free to use us as a reference, we will definitely recommend you to others!!
- Rosemary Quirouette and Steve Morse
On December 30, 2004, Duo Capriccio performed at Strathmere for the wedding ceremony of Hanan Anis and Madhu Krishnaswamy. The beautiful wedding included an exchange of flower garlands and the lighting of a unity candle. The couple had requested two songs special to them, Bridge Over Troubled Water by Simon and Garfunkel, and Imagine by John Lennon, which Dave sang during the ceremony. Thank you very much for the wonderful music that you and Beverley played during the wedding. Everyone really, really liked it.
- Hanan Anis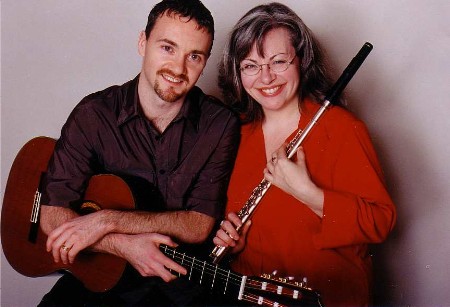 Listen to Duo Capriccio by clicking on the links below.
Repertoire
Following is a sample of Duo Capriccio's most requested wedding repertoire. Beverley and Dave will likely be able to fulfil any other requests you may have.
For the processional:
Canon in D - Johann Pachelbel (1653-1706)
Bridal Chorus (from Lohengrin) - Richard Wagner (1813-1883)
For the signing of the registry:
Sleepers Awake (from Cantata 140) - Johann Sebastian Bach
Jesu, Joy of Man's Desiring (from Cantata 147) - Johann Sebastian Bach
Canon in D - Johann Pachelbel
For the recessional:
"Aylesford" Gavotte - George Frideric Handel (1685-1759)
Trumpet Voluntary in D Major - Henry Purcell (1659-1695)
Wedding March (from Midsummer Night's Dream) - Felix Mendelssohn (1809-1847)
Rates
Weddings
For a wedding ceremony in Ottawa, Duo Capriccio's fee is $400. This includes prelude music for fifteen minutes as guests are arriving, as well as any pieces that you would like during the ceremony. For additional music before or after the ceremony, we charge $150 per hour. If the wedding is outside Ottawa, there may be an additional fee to cover travel time .

Dave is also available solo on acoustic guitar and as a singer for $250 for the ceremony and $100 for each additional hour.

To book the music for your wedding ceremony or event, we ask for a cheque for half the amount and a post-dated cheque for the remainder at the time of booking .
Corporate Events/Parties
For an event in Ottawa, Duo Capriccio's fee is $400 for the first hour and $150 for each additional hour.
Dave is also available solo on acoustic guitar, either instrumentally or with vocals, for $250 for the first hour and $100 for each additional hour.
Biographies
Beverley Robinson • flute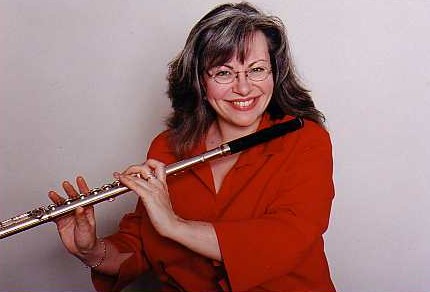 Originally from Guelph, Ontario, Beverley Robinson moved to Ottawa in 1984 to pursue her musical studies at the University of Ottawa where she received a Bachelor of Music in Performance. Her principal teachers have included Jean-Guy Brault, and Robert Cram, both formerly of the National Arts Centre Orchestra. In addition to working with flutists Robert Langevin and Jeanne Baxtresser, Beverley was a participant in the summer programme at the Banff Center for the Arts where she studied with the late Samuel Baron of the Julliard School and with British flute pedagogue Trevor Wye.
Since her arrival in Ottawa Beverley has been very active as a freelance musician, performing frequently throughout the Ottawa area. She was Concerto Competition Winner at the University of Ottawa in both 1989 and 1990, and performed as soloist with the Deep River Symphony in February 1999. As well as being a member of the Bel Canto Wind Quintet which is heard regularly on CBC Radio and Radio Canada, Beverley has been a member of the Ottawa Symphony Orchestra since 1992, and often performs on CBC's Ottawa in Concert.
In addition to her work as a freelance musician, Beverley enjoys teaching a full studio of private students and is often in demand by local school music programmes as a chamber music coach and flute clinician. She has been a theory teacher and woodwind coach for the Ottawa Youth Orchestra Academy since 1997 and is the Ottawa Youth Orchestra Academy Summer Camp Director.
Dave Milliken • guitar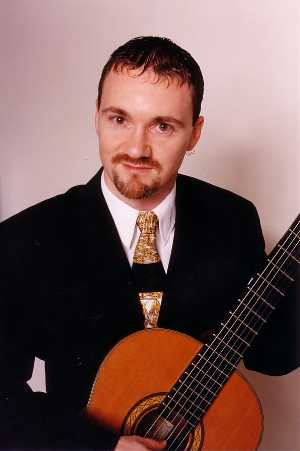 Dave Milliken performs both as a solo act and with several groups including the folk/rock group Steel Moon and the seven-piece R&B/blues/swing band The Priorities.
Dave's guitar work is featured on CDs by Steel Moon, Andrea England, Junkyard Symphony and Saddledogs. He has co-written songs that appear on CDs by Steel Moon, Katelyn Dawn, Andrea England and Kathy Kennedy.
Dave teaches acoustic, electric and bass guitar, as well as piano, in a variety of styles including rock, alternative, folk, blues, funk, reggae and classical. He has been a teacher since 1990, both at his home studio and until 2005 at the Ottawa Folklore Centre School of Music.
Dave studied classical guitar with Steve Rollins and Ray Sealey, piano with Douglas Voice and voice with Maria Knapik. Dave attended the Berklee College of Music in Boston and graduated from the University of Ottawa in 1990 with a Bachelor of Music.
Dave is a member of SOCAN (the Society of Composers, Authors and Music Publishers of Canada).